Sleeping Test
Our sleeping room serves as a lab intended for sleep studies on lung sounds imposed by pulmonary diseases. It provides state-of-the-art instrumentation to support research in IBTec, helping researchers carry out overnight sleep testing. Researchers in IBTec are trained to diagnose a variety of sleep disorders with polysomnography machines which can record sleep patterns and bodily responses during sleep. A nearby room with computers and equipment where our technologist will stay awake all night to monitor test subjects' sleep is next to the sleeping room, helping students of our institute address a broad range of test problems.
As it is well known that changes in lung structure that occur in disease affect the amplitude and phase of sound transmission from airways to the chest surface, thoracic sounds have been used as an indicator of various lung pathologies. Since optimal treatment and prognosis differ between obstructive airway disease (OAD) and other pathologies (non-OAD), differentiation between these pulmonary diseases is essential for proper management. Non-invasive measurement of the regional distributed lung sound has proved to be able to aid in the differentiation of these airway disorders.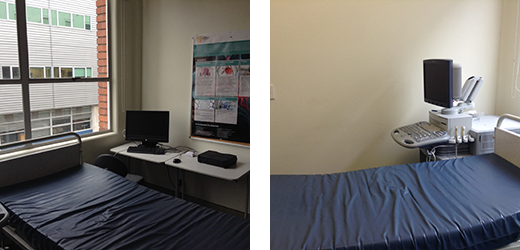 Our sleeping room is currently used to test thoracic sounds with simultaneous multi-sensors recording. The setup involved is an AASM compliant PSG recorder, the Nox-A1 device, which is intended for recording of physiological signals during sleep. Input channels of A1 includes channels for recording of EEG, EOG and submental EMG signals. 4 bipolar channels for record of ECG, EMG-LM, bruxism or additional EMG are designed as customized channels where researchers could change the channel type manually. Nox nasal cannula, which measures nasal airflow and snoring, enables us to combine the analysis of breathing flow rate and acoustic properties together.
Our researchers are trained to apply sensors to the skin of a test subject's head and body with mild adhesive. When test subjects are sleeping, brain and body functions are measured and recorded. Signal processing software may analyse the data and reveal test subject's breathing features during sleep. Aside from our breath sound study, our sleeping room provides support for all related research projects in IBTec.