eGP
Current trends in healthcare have been moving towards a more personalised and at home standard of care which can be tailored to the individual needs of patients. This has been further exacerbated by the needs of general practitioners to be able to do at home consultations during the COVID-19 pandemic, especially for at risk patients. In order to facilitate this, IBTEC is working on developing low-cost and easy-to-use devices that can allow more effective general practice consultations at home.
Current projects
This research resulted in a clinical decision support mobile application (VitalsAssist) to capture vital signs from medical devices and wearables and present them in a meaningful way to clinicians. It addressed the needs in real-time and remote healthcare monitoring. The App could identify a patient's deterioration and notify the clinicians so they can take appropriate action.
Research team
AUT
Associate Professor Hamid GholamHosseini
Dr Farhaan Mirza
Orion Health
This project was also conducted in collaboration, clinicians from Auckland and Waitemata District Health Boards, Orion Health technical leaders and other end-users/stakeholders (including Māori Research Advisors).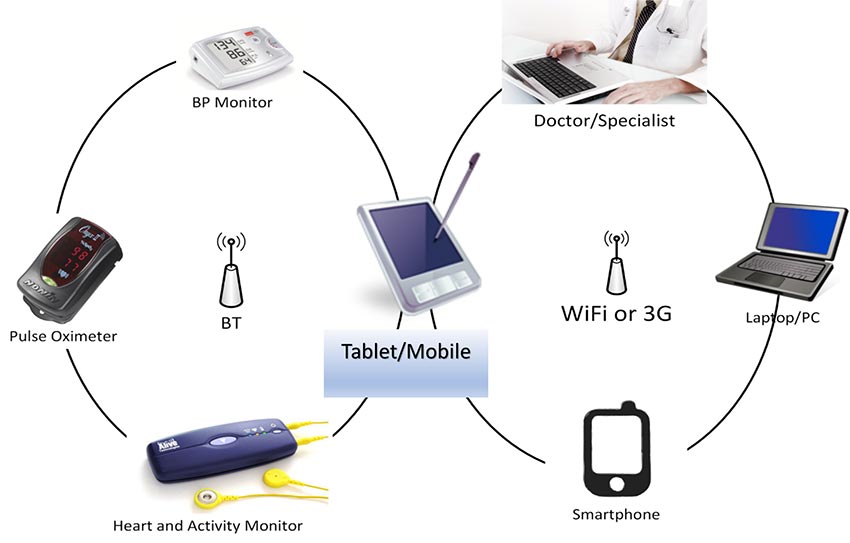 A key challenge facing New Zealand and the rest of the world is the growing burden of cardiovascular disease and its complications. Cardiovascular events such as heart attack and stroke are now the leading cause of mortality and disease burden globally. A key part of assessing cardiovascular risk is accurate measurement of human blood pressure but current devices for automatic blood pressure measurement still suffer from significant measurement errors.
This project aims to develop new technologies to perform these blood pressure measurements more accurately to allow better diagnosis and assessment of cardiovascular risk.
Research team
AUT
Andrew Lowe (Lead)
Tet Chuan Lee
Mayuresh Kulkarni
Tanvi Chandel
Victor Miranda
Amit Patel
University of Auckland